SFS2X Docs / GettingStarted / admintool
» The Administration Tool
The Administration Tool, also referred to as AdminTool in this documentation, is a powerful web application for SmartFoxServer 2X remote monitoring and management.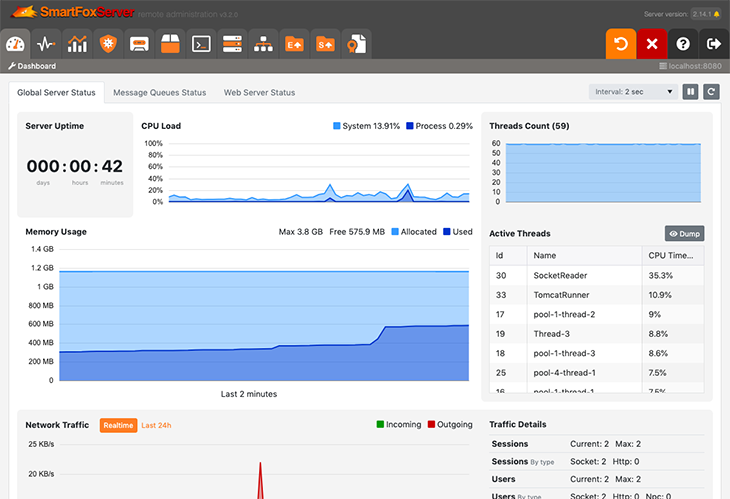 » Table of contents
Introduction
A general intro to the AdminTool and its interface

Accessing the AdminTool
Rapidly access the Administration Tool and its modules

Monitoring Modules

Configuration Modules

Custom Admin Modules (experimental)
Learn how to create your own custom modules for the AdminTool
» Accessing the AdminTool
After completing the SmartFoxServer 2X installation successfully, in order to rapidly access the AdminTool point your browser to http://localhost:8080/admin/.
When the main connection panel is displayed, you can connect to your local SFS2X instance immediately by entering the following details:
Host: localhost
Port: 8080
Username: sfsadmin
Password: sfsadmin
The predefined administrator (sfsadmin) should be removed as soon as possible, creating a new administrator user in the Remote Admin tab of the Server Configurator module. This is very important in particular when the server is deployed in production and can be accessed publicly.